Weber 57cm Smokey Mountain Cooker - NZ BBQs
Ships direct from our warehouse
$1,007.20
$1,259.00
Save $251.80
FREE SHIPPING NORTH ISLAND! (Rural shipping charges apply)
Delivery information

North Island Urban - Free
North Island Rural - $100
South Island Urban - $100
South Island Rural - $150


Delivery information

North Island Urban - $5
North Island Rural - $15
South Island Urban - $15
South Island Rural - $25
3 or more free delivery
Payment Options
We have a number of payment options available to you View Details
Slow down the pace and let the smell of barbecue fill the air. As friends start to trickle in, watch the anticipation of the crowd grow, as pulled pork and ribs smoke to perfection under the lid of the Weber 57cm Smokey Mountain Cooker.
If you want to get serious about smoking and bbqs, you'll love the Weber 57cm Smokey Mountain Cooker. Inside, a porcelain enamelled water pan generates steam to keep the barbecue cooking temperature low and even. As a result, the food is tender, succulent and moist. Smouldering smoke combines with the steam and filters up through the double racks, encircling hams, fish, poultry or sausage to produce beautiful flavours. The Smokey Mountain Cooker is perfect for homemade bacon. The smoker is made from heavy gauge steel sealed in porcelain enamel that won't peel, stain or burn.
The cookbook includes an easy reference smoker cooking chart and all the information you need to get you started. Also included with the Smokey Mountain Cooker is a premium quality vinyl cover.
As this product is a Weber specialist product we like to talk to you about your requirements so that we fit you with the perfect Weber BBQ. 
Call us to arrange the purchase and delivery of the Weber BBQs or visit our Turfrey Weber Specialist Store in Hastings to see the full Weber range and accessories for bbqs.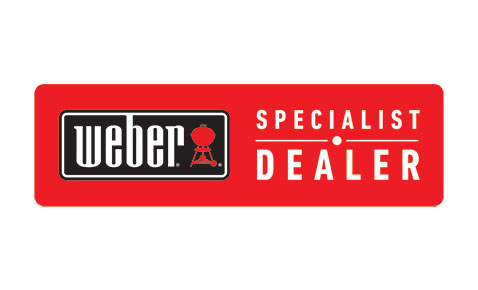 About Weber
As one of the world's leading brands, Weber has a large range of high quality barbecue products. Weber is recognized for barbecuing and grilling innovation, providing the ultimate cooking experience.
Turfrey is your licensed Weber Specialist Dealer and member of an exclusive NZ network, meaning we carry the full Weber range and offer the best selection on the market.
Weber BBQs range from small to large, including the much sought-after Weber Q, Weber Baby Q and gas grill models. Weber is known for it's ease of use and added features such as grease-management systems and generous guarantees.
Shop our wide range of Weber BBQs and Weber BBQ Accessories.
View all Products
Features
Plated steel cooking grills
Heavy-gauge steel fuel grate
Built-in lid thermometer
Porcelain-enamelled bowl, lid, centre section, and water pan
Charcoal chamber
Silicone temperature grommet
Rust-resistant aluminium fuel door
Rust-resistant aluminium heat shield
Cover included
Double tiered cooking grills provide plenty of barbecuing space
Specifications
Dimensions – lid closed (cm): 58.5W x 123.2H x 61D
Diameter (cm): 57
Fuel type: Charcoal
Glass-reinforced nylon handles: 2
Rust-resistant aluminium dampers: 4