Trueform Executive Spa Pool (6 Person)
Ships direct from NZ supplier
$15,938.00
$18,111.00
Save $2,173
FREE SHIPPING NORTH ISLAND! (Rural shipping charges apply)
Delivery information

North Island Urban - Free
North Island Rural - $300
South Island Urban - $600
South Island Rural - $900

Payment Options
We have a number of payment options available to you View Details
Trueform Executive Spa Pool (6 Person)
Free shipping North Island
6 Person Spa

55 Jets

1500 Litres
For those who want the best of the best: The top of the line Trueform Executive Spa Pool is made for those seeking the best. You'll be spoilt with 55 jets, and it's spacious enough for six people – relaxation just stepped up a notch!
Why Trueform?
35 Years Experience - Trueform Spas have been in the spa pool industry for more than 35 years. Their experience caters for spa pool manufacture for both local and export market.
Top Quality, NZ Made - Trueform Spas are made from the highest quality materials in their Auckland factory. Quality control is strict to ensure that your spa is up to their high standards when it reaches you.
Warranty Guarantee - Trueform Spas come with a five-year warranty against manufacturer defects and their pumps and heaters are covered by a two-year warranty. Replacement parts and repairs are available in New Zealand and worldwide.
Custom Build - Whether it's a family sized spa pool or the perfect size for two, pick the colour of the interior and then finish it off with a range of vinyl spa covers and accessories, all in colours to complement your home.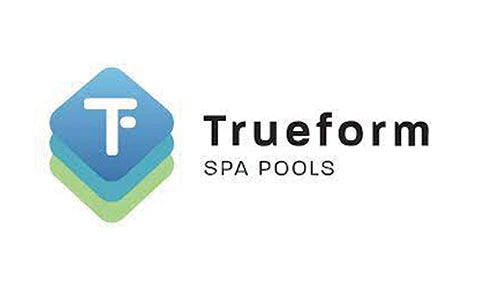 About Trueform
Trueform Spas are New Zealand made, and have been operating for over 35 Years.
Trueform spas are made with the highest quality New Zealand-made materials, parts, and products. All spas have fibreglass-reinforced acrylic shells, powerful pumps, heater and filtration systems, high-density foam insulation, a sophisticated digital control pad and hardwearing cedar cladding. 
The spa pools come with a five-year manufacturing defects warranty, and a two-year pump and heater warranty. As Trueform spa pools are manufactured locally, any necessary parts for repair can be undertaken promptly. 
View all Products
Features
2 recliners + 4 seats
Moulded padded headrests
Digital multi-colour lighting
Digital touchpad control
Choose your shell and cover colour
Price includes spa and cover – optional extras available at additional cost, email sales@turfrey.co.nz for package pricing
Specifications
Seating capacity: 6
Power: 15 amp 3 pin socket
Control system: Digital touchpad control
Lights: Digital coloured light, 6 in pool LEDs
Timer: 7 day programmable timer, digital timeclock
Pump speed: 1x3HP 1 speed, 1x3HP 2 speed, booster pump
Heater: 5.25kW variable heater
Headrest: Moulded padded headrests
Cover: Spot LEDs, lockable hardcover
Cabinet: Cedar cabinet
Dimensions (mm): 2290W x 935H x 2290D