Herschel Summit 2600 Watt Heater - White
Ships direct from NZ supplier
Payment Options
We have a number of payment options available to you View Details
Herschel Summit 2600 Infrared Heater
Herschel Summit 2600 Infrared Heater. The stylish and powerful SUMMIT is an ideal choice for both indoor applications and outdoor sheltered areas. Designed with the latest Kanthal AF heating elements and finished with an IR enhancing Ge coating, the SUMMIT provides an energy efficient heating solution for those areas that require effective comfort heating without the light emitted by medium-Infrared heaters. The SUMMIT is suitable for indoor and outdoor locations where airflow is low or manageable. It can be both wall mounted or hung directly overhead from the ceiling, maximising the heating in the area directly underneath the heater. Particularly suited for the commercial market, the slimline and tasteful SUMMIT will be an excellent solution for restaurants, bars, shops and similar indoor environments seeking a stylish, yet discreet, heating solution for their space. Its high IP65 protection rating, gives SUMMIT protection against dust and water ingress from all directions making it suitable for uncovered outdoor use. Its high power and installation flexibility also make SUMMIT ideal for areas on patios, outdoor bars and under parasols in sheltered areas. In exposed areas with air movement and wind, the far infrared spread may reduce by 1/3 to 1/2. In such instances, we recommend proportionally increasing the number of far infrared SUMMIT heaters, or for colder, windier situations, choosing a heater from our new middlewave Sunset range. Where extra precision and control are required, the SUMMIT is available with a remote-control (SUMMIT 2600R) providing 2 power settings (100% and 50%) and a 1-9 hour timer. The perfect solution for those looking for a low level of background heat on warmer days. Download the datasheet here:
Herschel Summit
Herschel Summit 2600 (without remote) - Panel size: 140 x 16 x 4.5(cm) - Heated area: 9-16m2 indoors/6-9m2 outdoors Herschel Summit 2600R (with remote) - Panel size: 150 x 16 x 4.5(cm) - Heated area: 9-16m2 indoors/6-9m2 outdoors Herschel iQ App-enabled controllers available to manage your home heating - email
sales@turfrey.co.nz
2 Year Warranty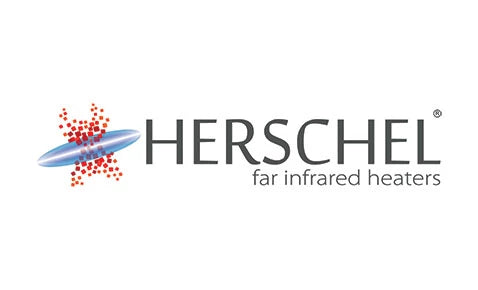 About Herschel
Turfrey supplies Herschel infrared heaters, mirrors and towel heaters. They are the global specialist in infrared heaters and controls for infrared heating and are New Zealand's market leader. Herschel manufacture and supply a wide range of infra-red heaters for all domestic, commercial and outdoor applications.
Herschel guarantees their heaters for up to 10 years. Made of the highest quality components, these heaters are built to last and are fully certified and tested to the highest standards.
View all Products