Nobo 2.4kW Oslo Electric Panel Heater NTL4T24
Ships direct from NZ supplier
$509.00
$899.95
Save $390.95
Payment Options
We have a number of payment options available to you View Details
Nobo 2.4kW Oslo Electric Panel Heater NTL4T24
LIFETIME WARRANTY
Scandinavian design is world famous for combining clean and timeless designs with user friendly functionality. The Oslo electric heater shares this same design ethos. By concealing the heat outlet vents behind the front panel, the seamless heater removes visual clutter and blends in against your wall. It's also only 5cm thick, meaning it won't protrude unnecessarily and get bumped into.
Safe for children. Child lock and lower surface temperature
Quiet operation for bedrooms
App controllable - even outside the home
Lifetime Warranty
Scandinavian made, the heater is built to withstand harsh winters that can plummet to as low as -40°C. No matter how cold it gets outside, you can rely on the Oslo to continue to perform just as well. 
The Energy Control System allows you to control your NOBO panel heaters via an App, This will increase efficiency, safety and ease of use. The NCU2 Receiver and HUB are required for the Energy Control System on the Nobo Panels.
The HUB connects to your wireless router with a network cable. This allows the HUB to communicate wirelessly with the App and with the heaters that have the NCU2R receiver installed. 
Download the Energy Control system App from the Apple App Store or Android's Google Play. 
The Oslo electric panel heater shares the Scandinavian design ethos: to combine clean and timeless models with user-oriented functionality. The heaters conceal the heat outlet vents behind the front panel, removing visual clutter and blending in against your wall. This clever design also means panel heaters can be installed almost anywhere, including behind furniture, where others may not work effectively. The quiet* operation means they are perfect for bedrooms, and our fan free technology won't circulate dust or pollen, helping to relieve symptoms for allergy sufferers.
Key Technical Specifications
Capacity 2.4kW

Temperature Range Push buttons 7-30°C

Product Dimensions 1425W x 55D x 400mmH

Controls (incl. Thermostat) Highly accurate electronic thermostat +-0.05C

Timer 7 Day Timer

Weight 8kg

IP Rating IP24 rated for bathrooms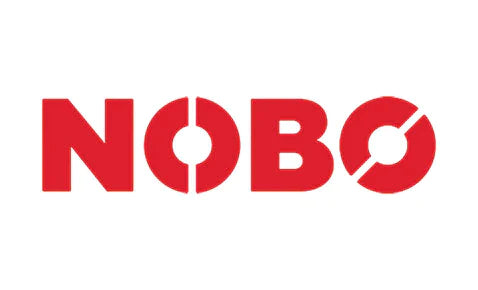 About Nobo
Lifetime Warranty
Nobo are slimline panel heaters with size options for small and big rooms. They offer the best in heater components, production, design and technology. Its technology platform sets the standard for electrical heating, with innovative timer controls, temperature sliders and pre-set timings all helping to reduce electricity bills.
Nobo panel heaters are also reputed for their beautiful sleek design that suits both ultra-modern and traditional style interiors.
At Turfrey we supply the Oslo models of electric panel heaters including the control systems for multi panel operation.
View all Products
Features
Scandinavian design and manufacture
Lifetime warranty
2.4kW heat output
Concealed air vents to remove visual clutter
Ultra Accurate Manual Thermostat (fluctuating only 0.05°C)
Completely Silent Performance
Child lock timer
Low surface temperatures for child safety
7 day timer
IP24 Rated, suitable for Bathrooms
Wall Mountable or Portable install
Specifications
Features: 7-day timer, ultra accurate thermostat
Finish

:

White
Heating Capacity: 2.4kW
Warranty

:

Lifetime warranty
Dimensions (WxDxH):

1425 x 55 x 400
Nobo 2.4kW Oslo Electric Panel Heater NTL4T24
Easy and quick solution to cold.
The heaters were very easy to install and look good. We haven't used them much yet but a trial run was very positive. Still waiting on the control doors from the manufacturer so we can programme them to come on early morning.