Herschel M-Colorado 2500 Medium Infrared Heater Black
Ships direct from NZ supplier
Payment Options
We have a number of payment options available to you View Details
Herschel M-Colorado 2500 Medium Infrared Heater Black
The zero maintenance 2.5kW Herschel COLORADO 2500 with its classic, tasteful and sleek design is a powerful electric space heater from our Sunset range. Ideal for those looking for a discreet, effective and easy to control solution, the Colorado has a smart, black aluminium powder-coated finish and is suitable for indoor and outdoor locations where airflow is manageable.
Well-suited for both domestic and commercial markets, Colorado 2600 is an excellent solution for outdoor restaurant and bar terraces and similar indoor environments seeking a stylish, effective heating solution for their space. The high protection afforded by COLORADO's IP55 rating allows it to be mounted outdoors and exposed to rainfall. It can be both wall or ceiling mounted or alternatively a stand (available separately) allows COLORADO to be mounted as a temporary heater where it can be used exactly where and when it is needed.
With a warm up time of just 5-10 seconds, the ultra-long life carbon heating lamp of the COLORADO, with a bulb life of up to 10,000 hours, quickly produces an effective feeling of comfortable warmth. The COLORADO 2500 can be used with external controllers, such as the Herschel iQ MD2 Thermostat. Where extra precision and control are required or for outdoor use, the COLORADO 2500R is available with a remote-control providing 4 power settings (100%; 75%; 50%; 25%) and can be timer controlled for up to 24 hours. The COLORADO offers maximum heating flexibility enabling you to maintain comfort levels even if the temperature changes around you.
The ultra-long life Carbon lamp emits a warm orange glow avoiding the glare produced by most quartz halogen heaters available. As always in exposed areas with air movement and wind, infrared spread may reduce by 1/3 to 1/2. In these areas we recommend mounting at the lowest height and proportionally increasing the number of heaters.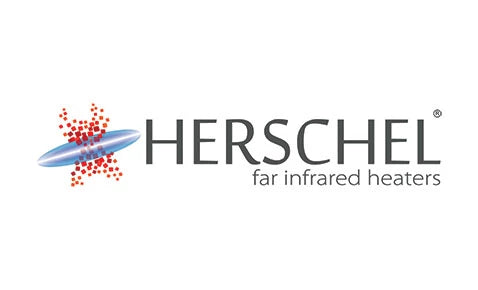 About Herschel
Turfrey supplies Herschel infrared heaters, mirrors and towel heaters. They are the global specialist in infrared heaters and controls for infrared heating and are New Zealand's market leader. Herschel manufacture and supply a wide range of infra-red heaters for all domestic, commercial and outdoor applications.
Herschel guarantees their heaters for up to 10 years. Made of the highest quality components, these heaters are built to last and are fully certified and tested to the highest standards.
View all Products